History of Living Stones: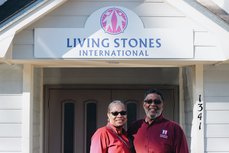 History of Living Stones International:
In 2007, Living Stones International (LSI) was established as a faith-based children, family outreach and social service organization. Programs and services teach fathers and mothers how to be better parents and more active in their children's life; offer children of inmates the tools to overcome obstacles and prevent them from following in their incarcerated parent's footsteps; and advocate on behalf of families to our community and government officials.
---
---
Co-Founders:
Gary and Josephine Montgomery, as founders of Living Stones, worked tirelessly in their own business for over thirty years improving and building individuals. The company became known as the "second chance company" and hired ex-offenders providing career choices and job opportunities while challenging their employees to make a difference. As nationwide systems integration experts for the transit industry, Gary and Josephine's company installed communication/video equipment onto more than 8,000 transit buses, trains, and para-transit vehicles nationwide.

Gary and Josephine have been married forty-four years and blessed with four wonderful children and eight awesome grandchildren.
---
​Since our inception, LSI transformed from a Marriage Really Works Education Program to a Prison-based Program working with children of inmates and their families. For the past three years, children have been reconnected to moms, dads, and grandparents in the state prison system comprising the counties of Gadsden, Jefferson, Leon, Liberty, and Wakulla.

Living Stones moved into a larger facility at 1341 Cross Creek Circle. Our location at 604 Eugenia Street was the beginning of the vision to work with children and families of inmates. Now LSI has become a comprehensive, multi-component program and providing services to address the effects of parental incarceration on children and families. What a blessing to see the growth in our program, addition of staff, and the facility to accommodate assisting more children and families from the start serving eight children to now working with 300.
---
Awards:
2016 Recognition for outstanding service to the youth and families presented to Gary and Josephine Montgomery by The Florida Department of Juvenile Justice at Living Stones International's 4th Annual Holiday Dinner and Toy Giveaway.

2015 Awards include: Certificate of Recognition 9/11 Day of Remembrance and Service presented by Leon County; Goodwill GoodGuides Award for Youth Mentoring Program; Modern Woodmen Hometown Heroes Award; and Volunteer Florida Champion of Service Award presented by Governor Rick Scott and Cabinet.

The Florida Department of Juvenile Justice (DJJ) & Department of Children and Families (DCF) presented Living Stones the 2013 "Champion of Hope Award" from the office of Governor Rick Scott and the Florida Faith and Community Based Advisory Council. Gary and Josephine were also honored as recipients of the National Society of the Daughters of the American Revolution's 2013 Community Service Award and honored at the 6th Annual Black History Month Celebration by the Florida Department of Children and Families.

Pastor Montgomery also serves as member of Advisory Board for DJJ; Chaplain with Gospel Express Ministries, and past Chairman of the DJJ Circuit II Faith Network. Elder Josephine past task included Chair of The Tallahassee Women's Connection, a local ministry evangelistic arm of the worldwide Stonecroft Ministries.

---
---
---
www.welivingstones.org
Living Stones International, 1341 Cross Creek Circle, Tallahassee, FL 32301, (850) 765-0320, (850) 765-0485 Fax
Copyrighted 2007- 2017. All rights reserved.