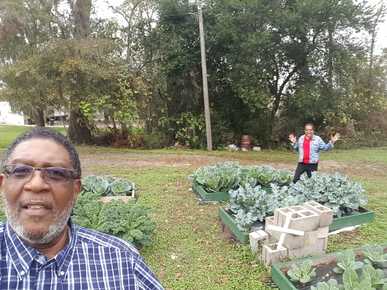 After 3 years, the garden is still producing kales, collards, cabbages, and a new guest broccoli. Wow, it's awesome to eat not only the raw kale in salads and smoothies, but to have fry cabbage, too. The broccoli is so tender, yum.

Living Stones appreciates Florida A&M for their involvement with our children and families to make this garden possible. It provides an opportunity for our families to work together. This year is proving to be more abundant so families please come and share in the harvest. Visiting about a week ago, we decided to start harvesting. The boxes you do not see have collards growing that will be ready in about four weeks.

The children will be a part of the spring season--watch out for new crops and new recipes. Next blog I'll share my kale salad recipe.