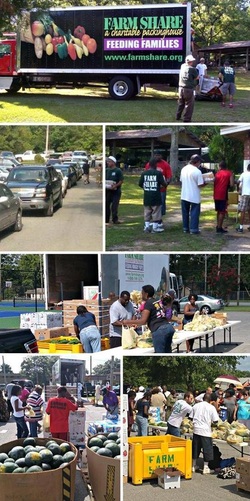 Farmshare came to Living Stones' First Annual Family Fun Day. They distributed 16,800 pounds of fresh farm products to over 300 individuals.

As you can see volunteers from Living Stones set up the area for distribution to families and children.

Individuals were as early as 7:00 am waiting for the truck to enter the area.

Additionally, Living Stones fed 650 individuals a free lunch of hamburgers, hot dogs, chips, and drink. Additionally there were games, face painting, balloon art, and vendors.

We look forward to making next year's event even bigger and better than this year. Join us as a supporter and volunteer to see the smiling faces of the families and children.